Project: Channel Hex
Producer: Lawrie Brewster
Studio: Hex Studios
Category: Content Distribution
Over 18 million views.
By any measure, that's a success. Yet for Lawrie Brewster and Hex Studios team, the numbers on their most-watched horror prank video on YouTube is only one highlight amongst many over the last decade.
With eight feature films released throughout global markets, several film festival showcases, a functioning production base in Fife and an impressive roster of demons to merchandise (including the nefarious Owl Man), Hex has emerged not just as the leading horror film studio in Scotland but the only one of its kind.
Key to that success has been communication. Hex Studios maintains regular contact with its audience, releasing unsettling YouTube "Creepypasta" and engaging update and insight videos between releases to keep its fan base – now a worldwide following – hooked, as if by the claws of the Owl Man itself.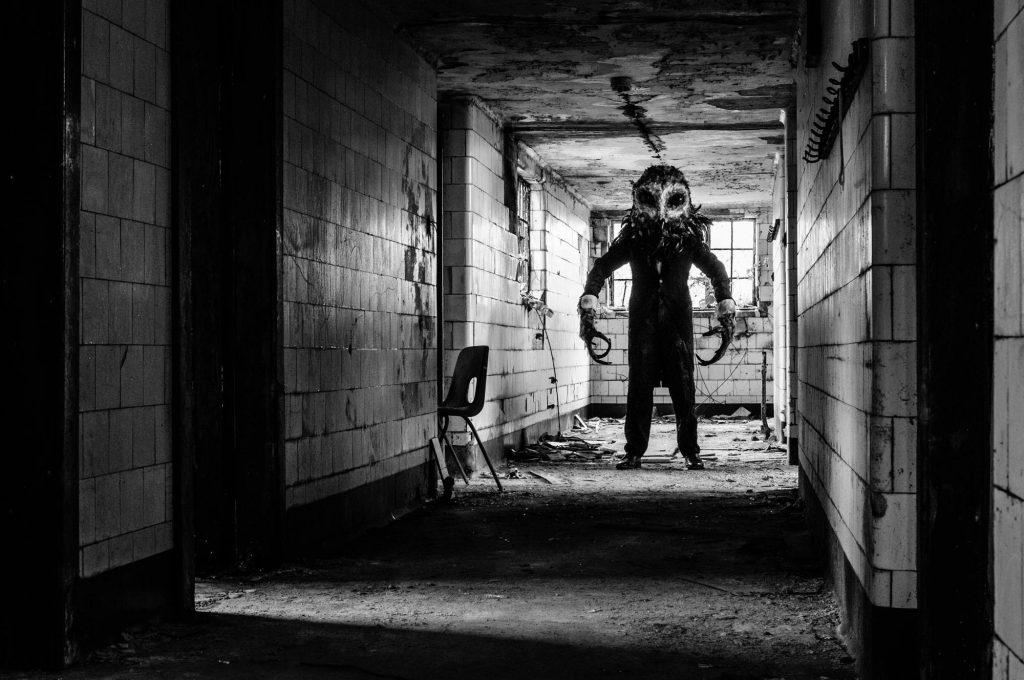 Their latest venture, Channel Hex, expands that YouTube experience.
Reaching out to creators both at home and abroad, Hex Studios are seeking to expand their online content, creating an online community producing short films, stories and artwork in the horror genre.
"Channel Hex is born a desire to create opportunities for creative artists around the world – especially, those who are fans of horror and fantasy" says Lawrie Brewster, head of Hex Studios. "Me and Sarah Daly, the co-founder of Hex Studios, have had a wonderful experience training folks and giving back opportunities for others to get involved in the creative industries."
Working with other creators is deep in the Hex DNA. In 2010, long before the DVD sets and the Owl Man stuffed toys, collaborators Lawrie Brewster and Sarah Daly hosted the Dysart Sail-In Film Festival – a community film festival hosted in Dysart harbour, supported by former UK Prime Minister Gordon Brown with films created with the local community. "At that time," Lawrie notes, "we did over 50 workshops for free!"
Lawrie is clearly proud of what Hex has achieved, with it's clear influences in the Hammer Horror tradition, fiercely independent with an international reach. "We're grassroots and proud of it," he says, "but we also produce professional films with high production values sold and appreciated around the world. We're proud to play our part in developing an indigenous film industry in Scotland with an international perspective."
The team has collaborated with renowned artists such as Joseph-Gordon Levitt, Channing Tatum and Nicholas Vince (of Hellraiser and Night Breed fame). Lawrie and Sarah's first film, the apocalyptic White Out, invited contributors to record fictional video diaries from across the world, chronicling the startlingly prescient story of a global viral pandemic through citizen journalism.
"Based on this and our wonderful experience at Hitrecord.org. which is Joseph-Gordon Levitt's Online Creative Collaboration Company, I thought it would be a great idea to try something like that but on a much, much smaller scale," says Lawrie.
"This coincided with [filmmaker and journalist] Sam Ashurst's arrival in Scotland, and so we spearheaded the development of that project.
"Now, Channel Hex consists of a fledgling YouTube Channel called Channel Hex, which runs alongside our primary YouTube Channel Hex Studios. Where as our main channel is focused towards promotional prank videos which advertise our products and movie trailers, Channel Hex will instead focus on news, editorial content and creative work.
"We also have a Facebook Group for Channel Hex, which invites folks to sign up on our collaborative mission to produce an open-access Online Movie Studio. So far we have about 600 members, and they're proving to be a productive bunch already!"
The studio's latest output, For We Are Many, demonstrates this collaborative concept. The first in a series of planned anthologies of horror shorts, For We Are Many is unified by a theme of demonic entities and their victims, tied together by a wrap-around sequence recorded in Elie. With short films coming in from across the world to take part in the project, Hex Studios has already demonstrated what can be achieved by pooling resources, with Channel Hex the next step in that journey.
The channel has already begun showcasing regular content. The series Obscurama! sees filmmaker and critic (and new Fifer) Sam Ashurst explore his love of cult horror classics, raising the profile of forgotten gems for the social media generation, starting with 1971's Fright. There is demonstrable demand for this content; RedLetterMedia and Cinemassacre have accrued millions of hits by raiding the obscure film archives.
The studio is no stranger to trying new things. As well as producing special edition DVDs and Blu-Rays of its films, this year sees the release of the first Book of Beastly Creatures – a volume exhibiting various ghoulies with associated tales and artwork. "We haven't produced a book before and we've learned a lot (the hard way!)", says Lawrie, "but that is only because we're making sure it's perfect and awesome."
Like Channel Hex itself, the team of Hex Studios each contribute own unique skills to create something whole. Producer Lawrie Brewster worked in corporate video for a number of years before transitioning to horror cinema, a man with a passion not just for the fantasy and the occult but for developing and building the Hex project. Writer and musician Sarah Daly, originally from Ireland, brings a maturity and depth to her work that underlines gory spectacles with thought-provoking, haunting themes. VFX and camera wizard Michael Brewster will spend many hours compositing the frames, elevating the scale of production with dynamic effects and digital trickery.
Supported by their regular collaborators, including filmmakers Thomas Staunton and Sam Ashurst – both of whom travelled from Ireland and London respectively to collaborate with Hex – the team see Channel Hex as an exciting new chapter in their growing horror empire; an opportunity to discover and work with fresh talent, and to showcase and celebrate their love of all things horror.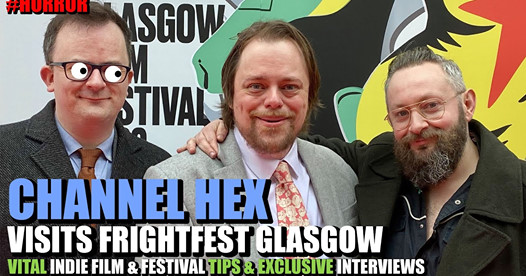 "Hex Studios is set to produce several feature films, along with our Channel Hex project and a major infrastructure project which is currently in development with local and national government," teases Lawrie. "All of which, is dedicated to furthering the opportunities for those aspiring to work in the creative industries – and especially those with a love of horror / fantasy!"
With many projects on the horizon and a follow-up to For We Are Many now in the planning stages, it's clear that Hex Studios has no plans to let the momentum stop now. The future is bright for a studio so immersed in the darkness.
Channel Hex is available now on YouTube.
Sam Ashurst from Channel Hex is the first guest on the Creative Film Fife Network podcast, available here.
A blog written by Sam Ashurst, detailing his journey from London to Fife with Hex Studios, is available here.