Project: The Prey Specimen Red
Co-Producers: Graeme Campbell & Laura Binnie
Studio: Glass Bullet Pictures
Category: Feature Film
Most film projects change from conception to the screen. Every filmmaker must learn to adapt to change, whether it be actor improvisation, temperamental weather or locations falling through. Across the world, filmmakers are currently confronting a global pandemic that is forcing them to alter their plans.
The Prey, however, is unique.
Not only have creators Glass Bullet Pictures reworked their sci-fi shooting script into an epic time-travel adventure, but they've had to accommodate some drastic changes in cast, crew and even technology far beyond what most filmmakers will have to accommodate.
Unlike most film productions, the making of The Prey has taken place over two decades.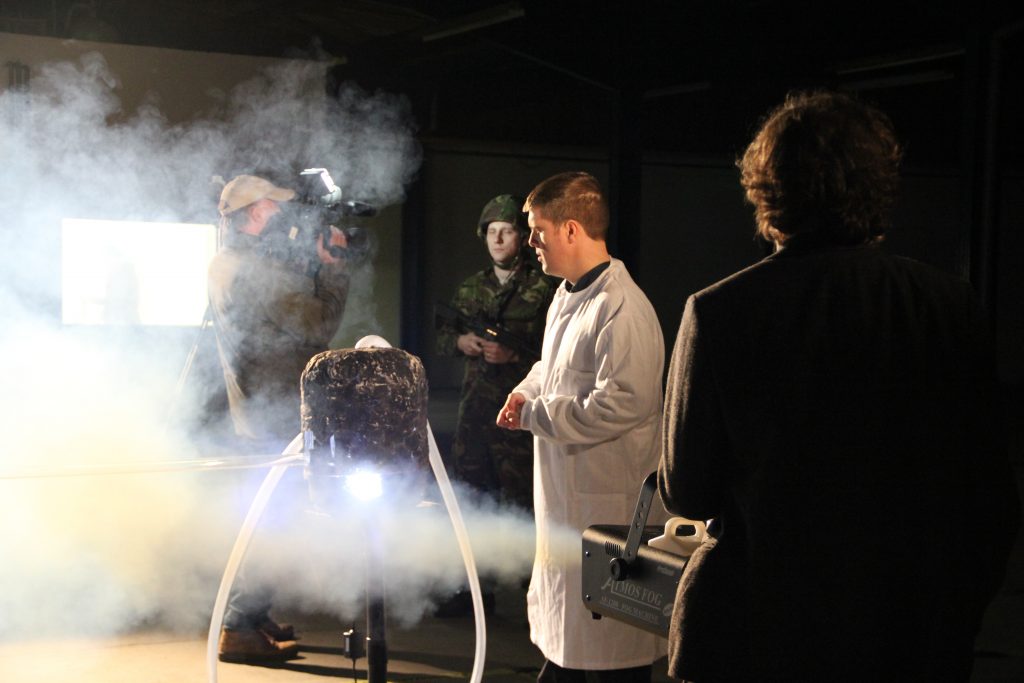 Following a year of pre-production in 2000, The Prey began shooting in January 2001 at Fife's Secret Bunker near Crail, with the team having exclusive use of the facility for one month. With principal shooting completed by 2004, the film was on track for completion – but hit an unexpected problem.
"The film became bogged down in the creation of very ambitious CGI special effects sequences," says director and co-producer Graeme Campbell, "involving space battles and other scenes reminiscent of many science fiction shows. We had a few very good special effects people have a crack at the work, but we just didn't have the rendering power and extra people required to realise it."
With the effects on hold indefinitely, the project was put to rest… until now.
Returning to the project in 2015, co-creators Graeme Campbell and Laura Binnie set to work bringing their vision back to life. Following a significant undertaking to rework the script, film new material and combine it with their original work, Glass Bullet Pictures is almost ready to release their new feature film: The Prey Specimen Red.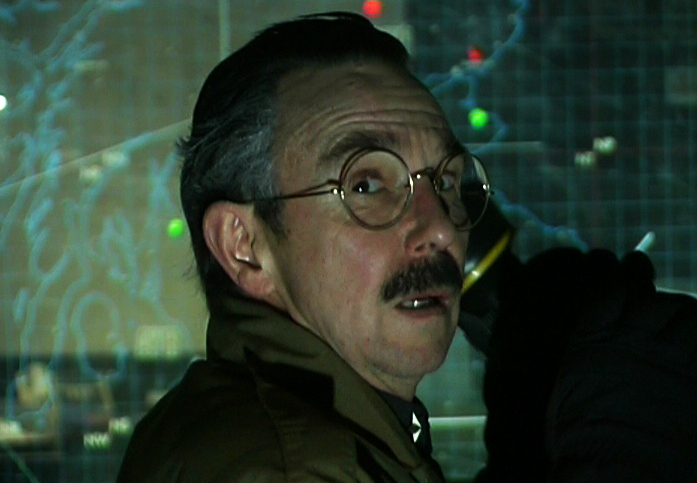 So what can audiences expect?
"The Prey Specimen Red is a portmanteau science fiction movie concerning a top secret government establishment where a time machine device has been under constant surveillance for 100 years.
"Suddenly, after a century, a young woman is beamed through trying to kill a small boy. The two time travellers are taken into custody and interviewed by MI5 agents. The woman tells them that this boy must die, as he poses a deadly threat – and backs it up with a story of pursuit across six time zones."
Graeme tells audiences to expect an "intricate 'Russian Doll' plot", taking the audience "from the gothic horror of Victorian Scotland to a story of revenge against corporate greed in the 1980s, the dark side of the X Factor, battling the Nazis during World War 2, the intrigue of Cold War Berlin and a deadly chess game played at the end of time.
"This is all tied together with a group of characters battling for survival in an underground bunker, facing deadly foes."
Graeme and Laura are well-kent faces in the Fife and Scottish filmmaking scene. Their corporate media business, Glass Bullet Media, started in 2007 and is well-established in Glenrothes, and the pair have been involved in a number of filmmaking initiatives over the years. Laura notes: "My real passion (and the reason I got into this) is the movie-making!" For a number of years, Graeme ran Fife Council's Moving Image Media Access Centre (MIMAC), which served as a training, equipment hire and networking service for video producers throughout the Kingdom.
The pair have both been strong supporters of the Creative Film Fife Network from its inception – even hosting a networking event in Glenrothes for Halloween 2019 (complete with fancy dress contest!).
"Networking is key in terms of having a sustainable industry where cast and crew can be recruited and co-operate ventures can be formed. It is difficult though without sustained funding – and that's where MIMAC had distinct benefits as it was a fully-funded council service which operated on a full-time basis. Other attempts since have been voluntary, and that can be tough without decent budgets.
"Glass Bullet supports the Creative Film Fife Network because we have prior experience in film development and resources to help. This was the basis of us funding and organising the event at Pinkerton's in Glenrothes in October. The feedback we received was very positive and we are already planning a follow up."
Hailing from Lanarkshire and a graduate of Stirling University, Graeme's career as a cameraman and a lecturer saw him working with the video unit at Strathclyde Region and lecturing at Motherwell College and Borders College, as well as developing and shooting genre films with Artemis Films. Graeme arrived in Fife in 1998, founding MIMAC with Fife Council.
Laura, born in Kirkcaldy and raised in Glenrothes, recalls her earliest experiences behind the lens: "My Dad introduced me to photography from an early age, but my dream was to study practical effects – prosthetics, animatronics, etc. I studied TV and Radio Broadcasting as a route in, but it was during that time that my passion turned to editing." Laura worked on and edited a number of film projects, taking her to meet and work at Fife Council as a video worker, where she first met Graeme.
Following the decision to close MIMAC, Laura responded proactively: "I thought: I could either spend months applying for jobs in media companies across Scotland, or I could just set up my own company. And that's what I did!" Subsequently, Laura founded Glass Bullet Media with support from Business Gateway, with Graeme joining later to pursue his own ambitions in video production and feature film development, as well as returning to lecturing film students at Fife College.
The Prey is one of Graeme and Laura's earliest ventures together, with Graeme on directing, Laura both editing and acting in the film and both co-producing. Laura recalls how exciting the process was: "My actual filmmaking experience probably didn't start 'til I met Graeme in 1999. I had no idea that 'normal' folk living in a wee town in Scotland could just go ahead and make a sci-fi movie!
"I was stunned when Graeme – who had only arrived in Fife a few months before – had already managed to build up a cast and crew, find locations, props and write a script.
"Nowadays, Scotland is packed with really talented filmmakers," she adds, "but back them filmmaking was a rare and unusual career path."
Graeme is very clear on what motivated the pair to return to The Prey: "One simple reason – the sheer joy of making Legend of Black Diamond."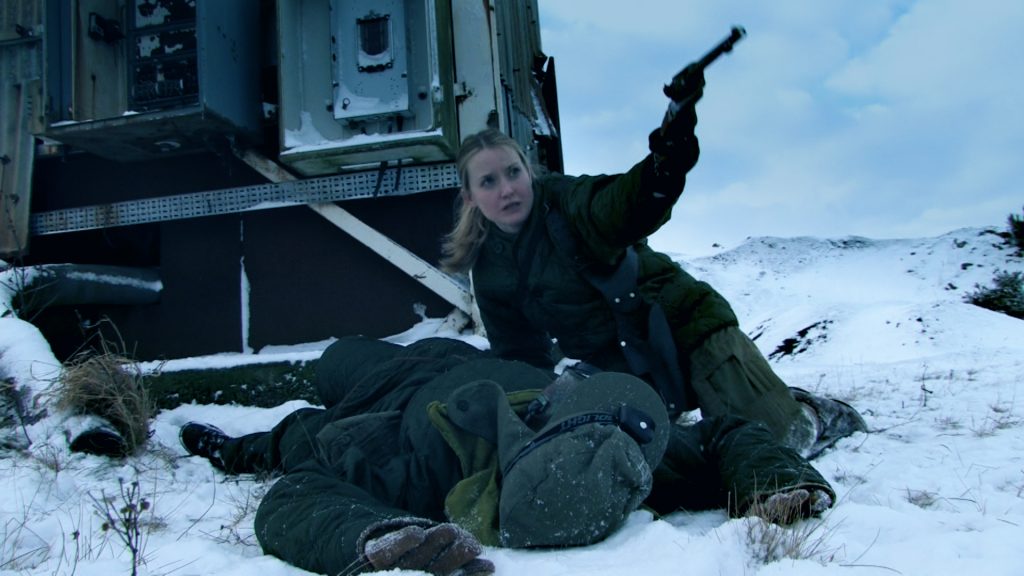 A full feature film in its own right, Glass Bullet released steampunk sci-fi western Legend of the Black Diamond in 2015. The dystopian film tells the story of a miner, Black Diamond, and her uprising against oppressive rulers, bankers and deadly cyborgs. The film is remarkable for both its scale and its clever use of iconic locations in and around Fife, utilising railway yards in Leven and the petrochemical towers of Grangemouth. The film is deserving of a future retrospective article in its own right (watch this space!).
"[Black Diamond] came together very easily and just seemed to work – from the script to the locations to the amazing performances from the cast," notes Graeme.
"We had an amazing cinema premiere for Legend of Black Diamond", says Laura. "It felt great seeing our years of hard work up on the big screen, so it gave us the incentive to go back to our abandoned film, rework the storyline and complete it."
Graeme describes his eureka moment: "As we considered our next project, I thought to myself, could I rework The Prey script and shoot new sequences? And the answer was: Yes!"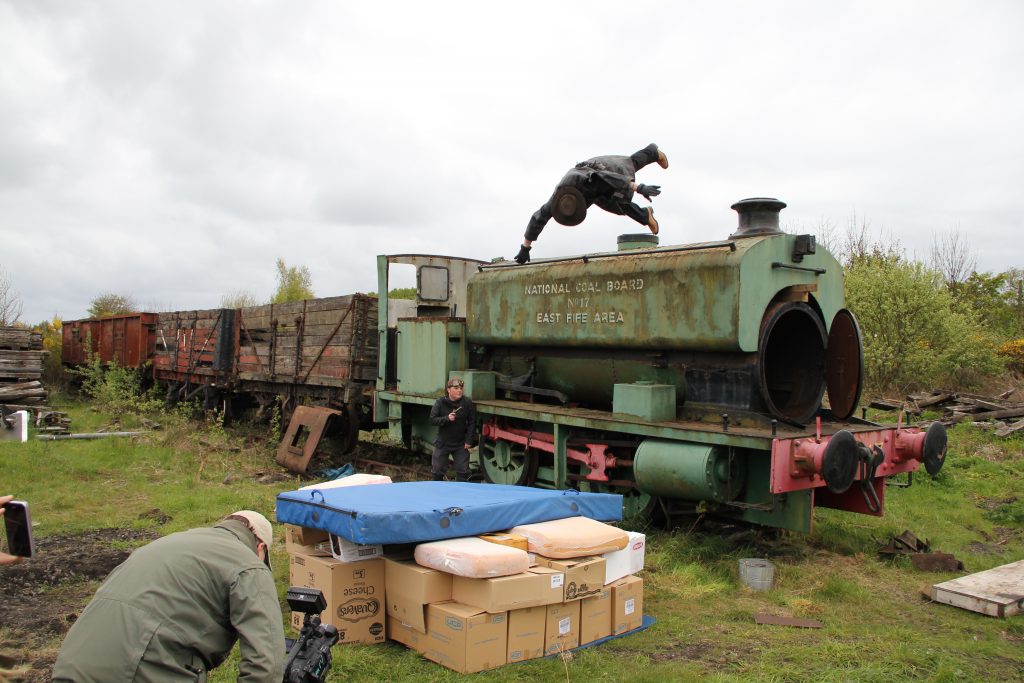 Shortly after the premiere of Black Diamond at the Kino Cinema in Leven, the pair found themselves back shooting The Prey only a few weeks later – between a screening in Glasgow the Starburst Fantasy Film Festival in Manchester. "It was like a completely new film," says Graeme, "as everything from the cast to the locations and even the crew was different. I really enjoyed it and we shot it with a real sense of confidence on the back of the success of Legend of the Black Diamond."
"I must also mention James Bond director John Glen, who [we] hooked up with in Manchester. He was really supportive and praised us as an 'action director' and an 'action editor', which again gave us added confidence to handle the new sequences."
The logistics of returning to the film presented a number challenges, not only in terms of Graeme's reworking of the script. The original footage was filmed on 4:3 DV tapes – common in 2001, but now almost forgotten in favour of digital, widescreen HD. Graeme was conscious while scripting to separate the original footage from new material to create a "different visual texture".
"It's been quite a challenge", says Laura. "The new script changes really helped with that process as it meant the old footage could be used as flashbacks and visual cues to a different timezone. It's not ideal, but I do like a challenge!"
Technology wasn't the only source of complication. "Some of the original cast had moved some distance away", notes Graeme, "and in two cases, had sadly passed on. There were, though, three actors who were critical and I had to get back.
"Had I not treated the 'Specimen Red' sequences as a new film, this would have been very difficult from a continuity point of view."
The performances from the film's cast – spanning two decades – includes New Zealander Lance Philips, of Hercules, as the main villain. Grant Nicholson, who appeared in The Hitchhiker's Guide to the Galaxy, plays the male lead. Other actors were recruited following "extensive workshops" with some having no prior stage or screen experience.
Sarah Louise Cairney and Martin Christie play MI5 agents in the new sequences, while Glass Bullet's "resident Hollywood stuntman" Bob McCrystral returns following Black Diamond. As well as teaming up with regular cast and crew, Graeme particularly notes crew member Peter Gavine, "who I met when he was a film student and did a great job recording location sound."
As Laura says: "Nothing beats good on-set chemistry and the camaraderie that comes with it!"
With a time travelling plot taking place throughout history, the ambitious film is epic in its scope – something reflected in the filming locations. As well as the Secret Bunker, the team have filmed at the East Fortune Air Museum, Balgonie Castle, Crail Airfield, Culross (with access to the Provost's house), a (now gone) shale quarry in Lanarkshire, a military range in Preston and – most notably for Kirkcaldy residents – even the Mercat Shopping Centre. Extensive use was also made of Glass Bullet's home at the Buko Business Centre in Glenrothes.
"Low budget filmmaking is all about being resourceful and imaginative", says Laura, "and it certainly helps that Graeme has a knack for finding the most fascinating locations."
One particularly memorable moment on set occurred when one of the team locked their car keys inside their car at Crail Airfield – during a WW2 sequence. "If you can picture the scene," says Graeme, "we had a Nazi flag flying and German troops all over the place. This AA van pulls in and the guy gets out and looks bemused to witness the scene and asks: 'What's going on here?' To which I replied: 'We're having a convention!'
"Needless to say, he say the funny side and retrieved the keys, but I have had tense moments on other films. In The Hunt (produced with Artemis Films), we were surrounded by farm workers with loaded shotguns as one of the actors – dressed as an alien – had been seen going for a walk. These 'red necks' had grabbed their guns, jumped into their jeeps and had made their way to 'confront' an alien invasion. Luckily, I managed to defuse that one!"
With only a few final additions to make to the score and foley, The Prey is currently set for an October premiere at the Adam Smith Theatre in Kirkcaldy. Of course, we live in uncertain times. The coronavirus pandemic has created a degree of uncertainty for filmmakers, and Glass Bullet are aware of the challenges.
"We don't yet know when theatres will re-open and how social distancing will affect a film launch", says Graeme. "Because it will be a celebration of the movie, we want as many people as possible to attend – and that might not be possible this year."
Despite this, Glass Bullet is already looking to the future, with a further two feature films planned with filming intended to start next year – described by Graeme as "quite a depature" from their previous work. For now, Graeme and Laura both express a real sense of pride and achievement in seeing their plans finally realised after so many years.
"I'm glad for the many people who contributed their time and talent to the project over many years," says Graeme, "and it was disappointing for them when the film was not completed."
Laura reflects on the journey. "Graeme has such a fantastic imagination for creating stories and unique worlds that sometimes I worry that we can't recreate his vision on our tiny budgets.
"I suppose The Prey was originally a victim of that ambitious vision, so I'm really thrilled that we've been resourceful enough to finally complete the film – and I'm really happy that the cast and crew will see all their hard work come together at last."
"A director has a duty of care to his cast and crew," states Graeme, "and finally I feel that this duty is being fulfilled on my part for this movie. It also delivers a second ambitious feature film for Glass Bullet Pictures, and gears us up for our next batch of movies and expansion plans – which I would be happy to reveal in a future Creative Film Fife Network blog!"
The Prey Specimen Red is currently finishing post-production and is set to premiere in October 2020 in Kirkcaldy.
More information is available at: https://www.glassbulletpictures.co.uk