Project: #FOLK
Producers: Tom Alner & Ludovic Barrier
Category: Content Distribution
It's a question all new filmmakers are faced with: how do I get my work out there?
This isn't just a question for Fife. Throughout Scotland and beyond, creators spend days, weeks, months and even years pouring their souls into their passion projects that are fated to fade into obscurity in the far reaches of YouTube and Vimeo, with no hope of ever defeating the algorithms that keep them there.
Even worse: the coronavirus pandemic has halted film projects across the globe. Blockbuster studio releases and humble student shorts alike have been halted by this great equaliser, now placed on an indefinite hold as we wait for the 'new normal' to become a memory.
While some artists can adjust to writing, painting and drawing from their living rooms, many do not have that luxury: their plans stalled, their projects on the backburner.
Enter #FOLK.
"Put simply, it's a curated content channel for sharing new work from creatives across Scotland and beyond," says co-creator Ludovic Barrier.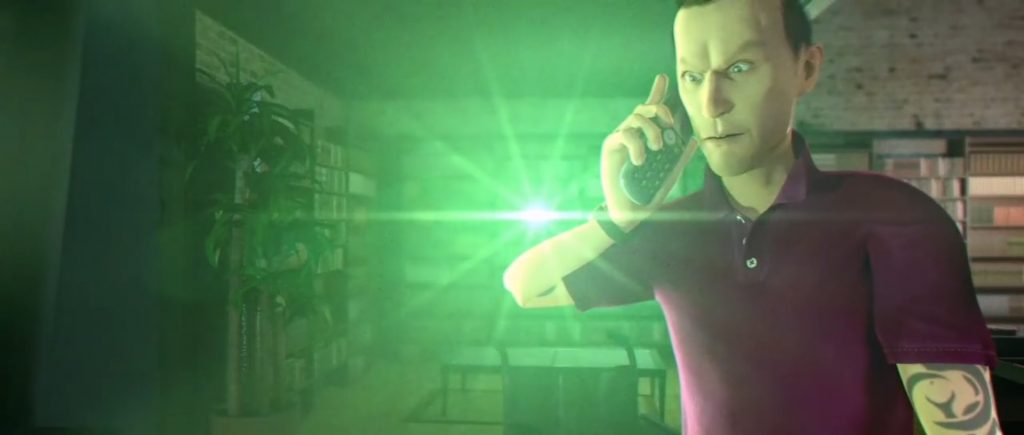 "We created the channel as an outlet for people to share their work, and hopefully motivate them to create new, interesting content during the lockdown period, and potentially beyond it as well."
#FOLK emerged in the early days of the UK lockdown. Running a Facebook page dedicated to getting new content out there, the two man team of Tom Alner and Ludovic Barrier has reached out to filmmakers across Scotland offer a platform for sharing video and to keep creatives creating.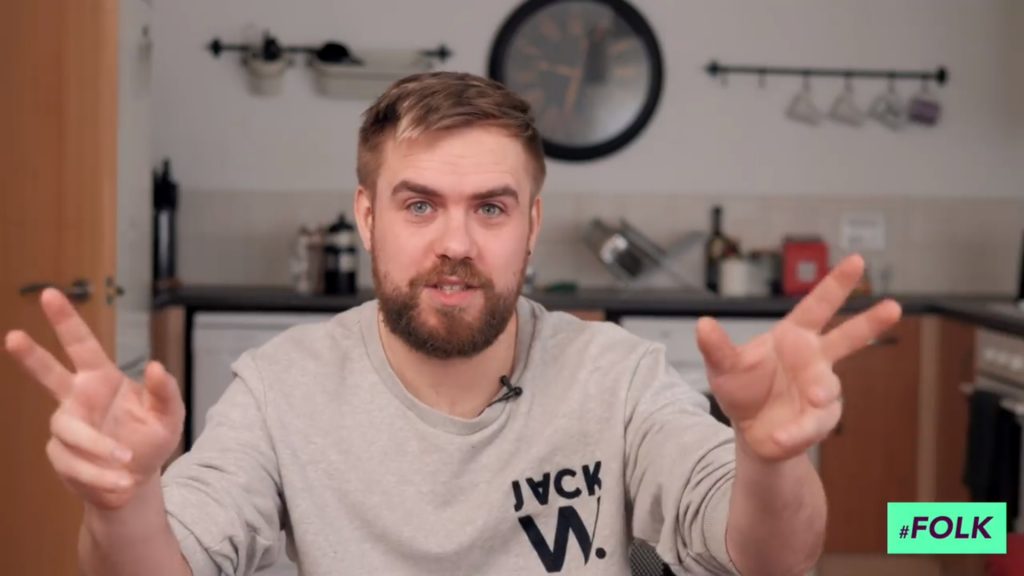 "The idea of #FOLK came about one evening as a response to the global crisis we've found ourselves in," says Tom. "As creatives, we have an uncertain future, and many of us have suddenly found ourselves without paid work, and an empty diary.
"Although many of us have small projects we can be working on – writing scripts, finishing edits, that kind of thing – eventually most of us will need an outlet to keep us going. And that's where the idea of one, unified channel came about for people to come together on and make great stuff."
Both Tom and Ludo have found themselves with the same frustrations as all filmmakers throughout the world. Tom himself is a freelance camera op and videographer, while Ludo specialises in sound-engineering for film and broadcast. Against this backdrop, the frequent collaborators put their heads together. The result was #FOLK.
"Tom and I were sitting on some unreleased content we had filmed," says Ludo. "One thing led to another one night, and we had a thought it could be worth creating a channel that would act primarily as described, but also would also us to release what we had, almost as an encouragement for people to do the same.
"We just messaged a few friends we knew, asked them to share their work with us if they'd be interested to do so, and asked them to share the page. We were hoping some of them may already have some content they would be happy for us to share, and we were right."
Both Tom and Ludo are "new Scots", hailing from London and France respectively. The pair met whilst studying at UWS, the University of the West of Scotland, and each pursued their own creative interests in photography and music before finding their 'true calling' in film.
"It wasn't until I hit around 27 that I decided I needed to get into film," reflects Tom. "I feel like I had, in all honesty, ignored my true creative calling up until that point, and made a decision to spend the rest of my life trying to make films. At 32, I'm still doing it!"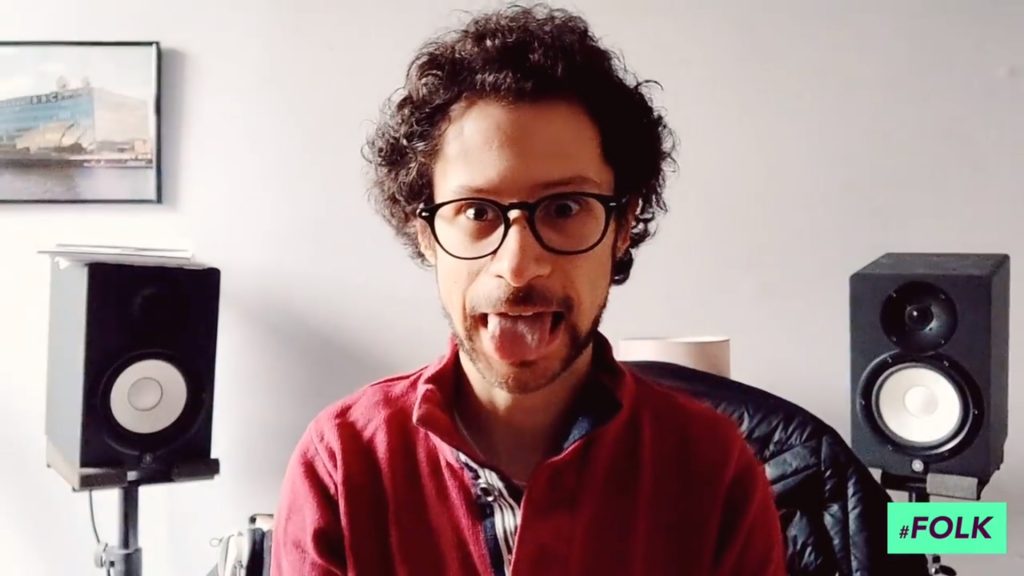 Content curation is a departure for the duo, who have previously focussed their efforts behind the camera. Tom recently directed his first short film, The Loop, describing it as a "stressful but valuable experience". Ludovic describes himself as a "problem-solver" in his sound-engineering work for a video production company. The pair are now in front of camera, speaking to their audience and their contributors. Yet the pair are undaunted by their new role, seeing it as an opportunity.
"It's a difficult time right now, for creative people especially", they say. "We honestly don't know when we'll next have a paid gig.
"However, we refuse to let financial or physical circumstances get in the way of making stuff, and we want to instill the same feeling in others."
#FOLK invites an immediate comparison. BBC Scotland has been quick to capitalise on the rapid growth of social media and the new wave of mobile phone creators. The Social has been the trailblazer for a number of years, offering an outlet for many of Scotland's young talent, whether filming on a high-end DSLR or an iPhone. Despite the apparent similarities to the platform, Ludo and Tom are keen for #FOLK to have express its own identity.
"The Social is a wonderful platform and has allowed many young content creators, some we know personally, to showcase their talents to an ever-growing audience," says Ludo. "Where we stand differently to The Social is that we are not affiliated to a company. Rather, we are simply two creative people who decided to turn their free time into something productive and potentially beneficial for other people."
"#FOLK is its own beast", states Tom. "We are not bound by any restrictions set by a broadcasting network. People can say, and share, whatever they like on our channel, as long as it is interesting to watch and engages the audience.
"We are also not a company. We do not make money from the channel. It is simply a platform for others to share their work."
Since launching a few short weeks ago, the channel has already played host a variety of content from creators throughout Scotland. From acoustic music sets to short films and animations, the material has been significantly varied. The pair are keen to encourage more into this diverse, digital menagerie: "We are open to any content, whether that be video, audio, pictorial, text. We're even open to just 'ideas' that can then be shaped into a piece of content with some guidance or assistance.
"We want to hear from people from all over Scotland, not just the central belt. We also want to give a voice to people who don't necessarily have an outlet. So yes, we want to hear from anyone, anywhere in this beautiful country who wants to share their stuff.
"Filmmaker, musician, chef, painter, carpenter, teacher, poet, builder, you name it."
#FOLK has emerged quickly with a clear USP: to keep people creating during the pandemic. Yet we're all awaiting the day when things will – eventually – give way some form of normality. Given the nature of its conception, does #FOLK have a future beyond the current crisis?
"We wanted to create #FOLK as a reaction to what was happening," says Ludo, "and if it dies off with the pandemic it would have still fulfilled its original intent.
"However, if it is still around when people are able to go back out again and create together, then it will open up a lot of possibilities for us, but we will cross that bridge when we come to it."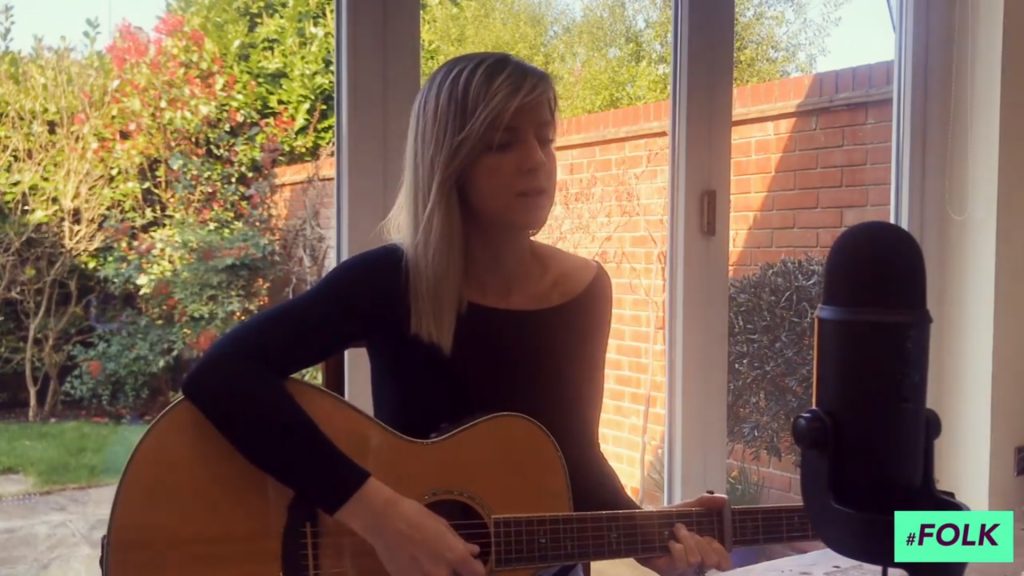 Tom agrees with this 'see what happens' approach. "We are not thinking much further ahead than what content is going out this week, and what things we can put out that will hopefully brighten someone's day," he says. "Ask us in three months and maybe we might have a better answer for you!"
The team are strong in their convictions. The project is fuelled by a love of the creative process and collaboration, driven by a desire to support and motivate their peers. "Hopefully #FOLK can brighten your day a little, and inspire some of you to pick up your phones, cameras, tools, pens, instruments – whatever you use – and say the things you've wanted to say for a while."
#FOLK is new and untested, by its creators' own admission: an "experiment". Yet Tom and Ludo are excited by their new role of curating content as well as creating it. The project is a defiance to stagnation: a determination to push through difficult circumstances to keep creating, and to love doing so. Whether #FOLK is a short-lived passion project or evolves into a permanent online distributor remains to be seen, but the pair are motivated to see this through and to support their peers.
"Our only criteria is putting out interesting and engaging pieces of content that will capture people's attention. And we are both here to support creatives in getting that work out to the world through the channel.
"See this time as the perfect opportunity to engage with people, as it may be a unique moment in our lifetimes when we are all together online, have the time to make stuff, and have the ability to share it with a potentially huge audience.
"We are only a simple click away, so send us a message, engage with the channel and help us inspire more people to just make interesting stuff."
For more information or to get involved with #FOLK, please visit: https://www.facebook.com/hashtagfolk/