Project: Dick Dynamite
Director: Robbie Davidson (AKA. Beans Goldblum, Steedo)
Studio: Rock N Roll Video
Category: Feature Film
A cold Wednesday evening in Edinburgh on February. Outside the church, a small band of soldiers shuffle in the darkness, shielding their cigarettes. It's a sight to behold; apparitions of the undead, helmets and armbands removed to avoid causing any alarm in the public. In the streets of the city centre, pedestrians pass by, oblivious to the chaos unfolding amongst the pews and the pulpit.
Inside, director Robbie Davidson, AKA "Steedo", has assembled an army. A team of make-up artists have taken over the upper floors, turning men into monsters with copious lashings of blood. No less than four camera operators dance around the majestic settings – followed by a photographer – capturing not just the action but the spectacle of the venue. An endless supply of gummy bears and cheese rolls are guzzled in the tea corner.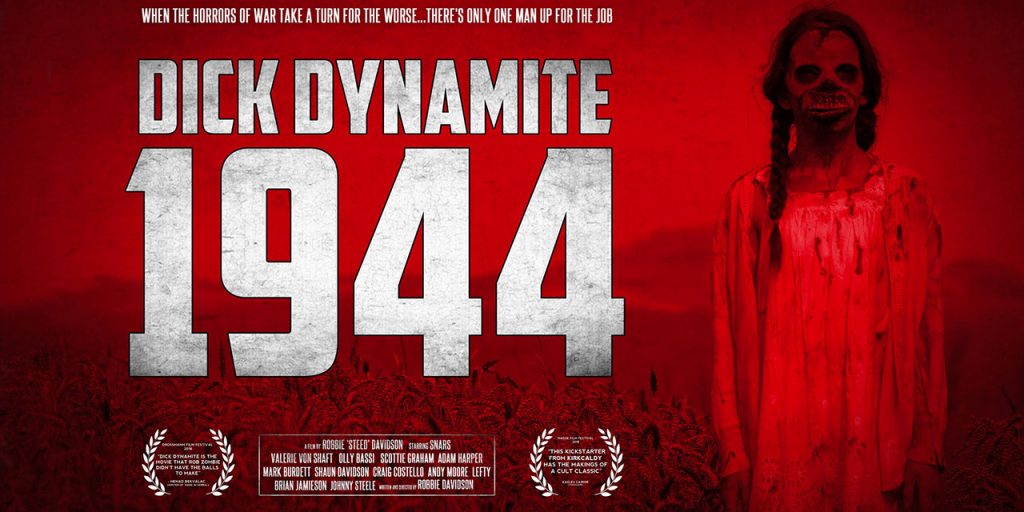 Storming down the aisle is the titular Dick Dynamite; a hard as nails action hero cut from the same cloth as Schwarzenegger. In his sights are the tyranny of 1940s Europe; devotees of Hitler, with their monstrous biological experiments ready to be unleashed upon the world.
World War 2. Zombies. Nazi ninjas. One-liners. Like a 1980s fever dream, Dick Dynamite appears at once such an absurd yet strangely obvious concept that it's baffling to consider why no one has attempted this before. Where are the Arnie-style 80s action flicks set in WW2? And if we're going all in, why not add in some horror flair; mad scientists and their abominations wreaking havoc for the Third Reich?
"I guess having a mutual love of 80s Schwarzenegger movies and WWII films, I wanted to make a movie that combined the two," Steedo says. "Neither Arnie – nor any of the other major action stars of the 80s, to my knowledge – were ever in an over the top WWII movie. It's stupidly ambitious but I thought we could pull it off."
Dick Dynamite takes all these elements and turbo-charges them. Anyone familiar with Steedo's earlier work should know exactly the 'punk rock' tone he's going for with his debut feature.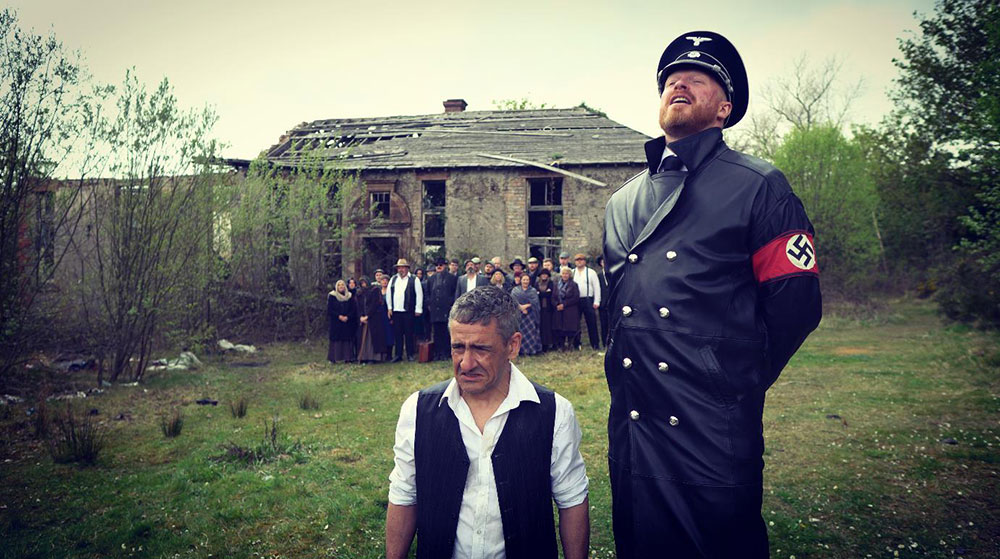 "Dick Dynamite started out as an over the top homage to 80s action movies, but over the course of filming it has turned into somewhat of a different beast!" says Steedo. "When it came to making my next film, being an underground Scottish film maker, I thought of making a film similar in vein to my previous film Radge Land, but I thought, f*** it, why not make something totally over the top and ambitious?"
In some ways, Steedo's previous work almost feels like a warm up act. Radge Land (2015) is the story of one man's chance encounter turning into an all-out assault from an army of homeless anarchists, and climaxes with dozens of extras charging through the streets of Kirkcaldy in pursuit of their prey.
Clearly, Steedo loves not just extremities, but scale. The shoot at the church is only one example. Filming for Dick Dynamite has taken place at huge set pieces throughout Scotland, including at Scotland's Secret Bunker, an island off the west coast, luxurious vintage speakeasies and vast, open fields. At times, cast and crew has exceeded over 100 on set at a time. Last year, a call out for child zombie extras saw parents bring enough youngsters to fill multiple primary school classes. Being on set for Dick Dynamite – and seeing the sheer scale of what Steedo has set out to achieve – is an experience in of itself.
Steedo himself is a larger than life character, having spent most of his career as a touring musician in bands such as The Exploited. A well-kent figure in the Fife music scene through his bands, including Certain Death and the Snapping Turtles, Steedo has worked in television and youth work, and is filled with a boundless enthusiasm for free expression. With his first feature film, Steedo is combining his clear love of heavy metal and grindhouse cinema in such a way that it seems no one else could have made Dick Dynamite like this but him. His unique style has come to be known as "punk-rock filmmaking".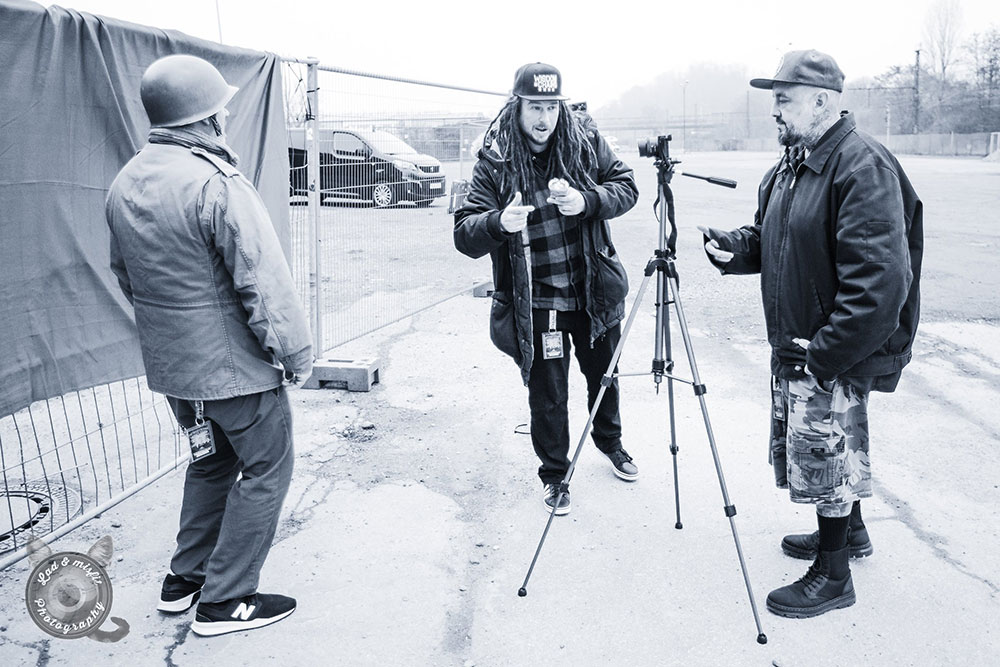 "I guess it's similar in vein to what is commonly known as 'guerrilla' film making: being so committed to what you are doing that you are willing to bend the rules a bit. I also think, coming from a 'punk rock' background, the likes of having organised gigs is similar in a way. You are having to organise people, transport and equipment."
In some respects, the project is a seamless extension of Steedo's music life. The character of Dick Dynamite is played by "Snarz": a former marine turned fireman and drummer in Steedo's band, Certain Death, now impressively fronting a feature film. At a glance, Snarz looks like Schwarzenegger reborn: built like a human tank, with a whimsical smile following every quip.
Steedo feels having his band members lead on screen gives the film a distinctive edge: "Due to the circles I move in, the cast and crew are predominantly folks in bands that I know. They might not be trained actors, but they are performers. I think in some way this can also come across great onscreen – a great deal of rawness and realism."
Despite having a clear vision from the outset, Steedo has been keen to emphasise what his team have brought to the table.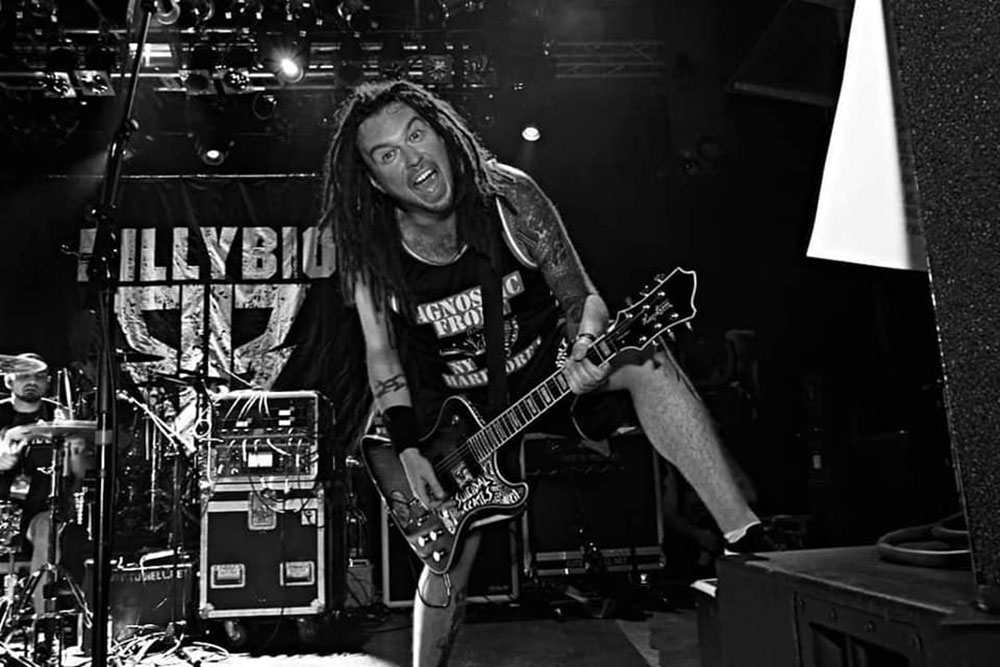 "At its core, it's essentially the Radge Land crew. My man Scottie – who not only played the main henchman in both Radge Land and now Dick Dynamite – acts almost like my studio executive. Every main decision gets run past Scottie. He even sorted out a lot of the locations. Even if there's a scene he's not in front of camera, he'll be there. Kinda like the final say in things – the man from Delmonte!
"It took a while to get off the ground and running, but once we got a crew together… it was SOLID. These guys are 110% committed. Most of these people also fill other roles, getting in front of camera too. We were trying to work out who has died onscreen the most, but I think as it stands its stunt-munk Liam – and he has got WAY more epic deaths still to be filmed!
"Even people that come onboard in front of camera end up getting so passionate about it they end up tagging along to other shoots just to help out. It's an absolute riot sometimes and so much fun. I guess that's why they keep coming back. They got the film bug."
Dick Dynamite has been in development for some time. Steedo launched a successful Kickstarter campaign for the film back in 2018, an experience which he has described as "tough": "The pressure was ON. I almost pulled the plug early on during the campaign. It was so stressful." Despite the stress, Dick Dynamite made its full funding target. "The biggest support has come from the folks chipping in to the crowdfunder. If it wasn't for them, it wouldn't have been possible at all."
Spectators in Kirkcaldy have also been treated to a special four-minute highlight "teaser" reel, filmed entirely in front of green screen, which premiered at Steedo's second Radge Film Festival; his own local film festival with a punk rock edge. "Gawd, I cringe at that now!" he says. "What we made back then was way more cheesy and tongue in cheek. What we have now still has a lot of humour in it – but looks far more polished."
Of course, no film is made in a vacuum. Over the course of the film's production Steedo's personal life has changed dramatically, becoming a Dad for the first time, now balancing Nazis and nappies. "It's pretty hard," Steedo admits, "especially editing from home. I gotta do my share with my partner Val, who plays Agent Jennings in the film.
"No matter how crucial a point I'm at during the edit – if the baby is crying, she's gotta come first!"
There have been other setbacks, some more challenging than others. Sadly, Steedo was struck by personal loss, losing his father during production last year. Steedo has reflected on how Dick Dynamite and the dedication of his team has helped support him: "We had some big film shoots planned and I decided to carry on. The first shoot back was particularly hard, but being around the guys helped me see it through."
Life on set is a spectacle. Yet for all of the larger than life exploits on and off camera, Dick Dynamite feels like a deeply personal project. For Steedo, this first feature is not only his biggest project to date, but represents many years of his life: a combination of a love for film and an expression of his passions. While production is now on hold during the coronavirus pandemic, Steedo hopes to have everything ready in time for a special cast screening by Christmas 2020, followed by a film festival tour.
"It's evolved so much since its inception," he says.
"There have been so many laughs, and so many guest cameos which have been a bit of an honour and a bit of miracle in some cases!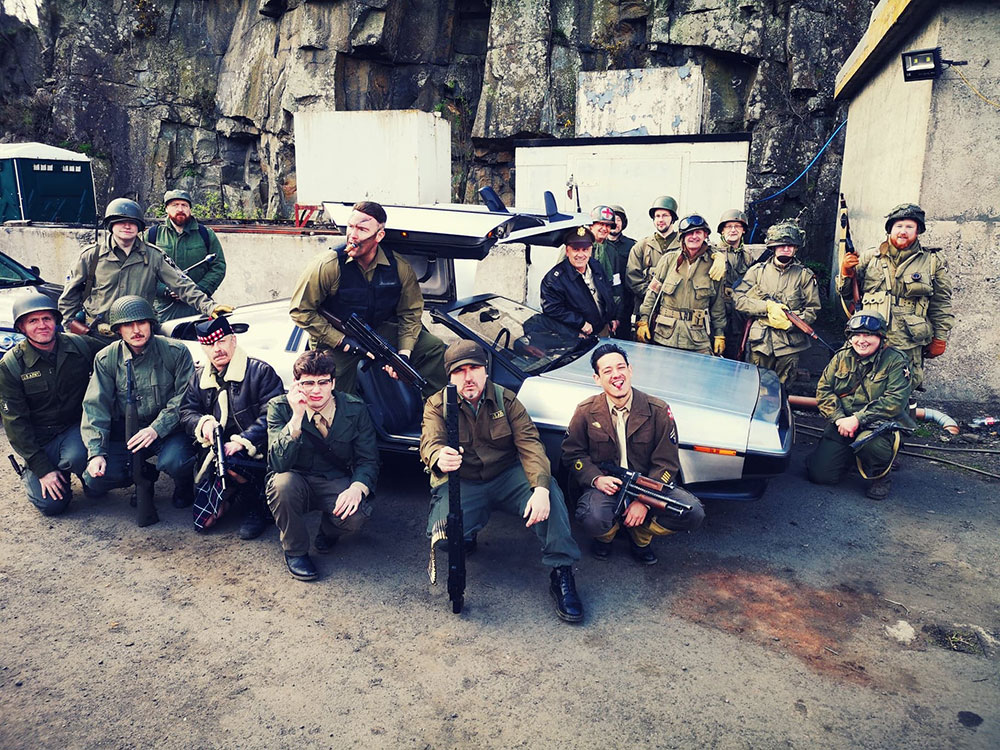 "I'm not tooting my own horn here. It is an achievement of everyone, EVERYONE involved. As well as the backers, the cast & crew have become like family and are so onboard with making something special. Part of the magic being: it's a bunch of mates getting together and making something ridiculous from nothing. Belief in a crazy idea that grew arms and legs.
"There's also quite a few surprises that we are just sitting on until the film is ready for promotion… Watch this space!"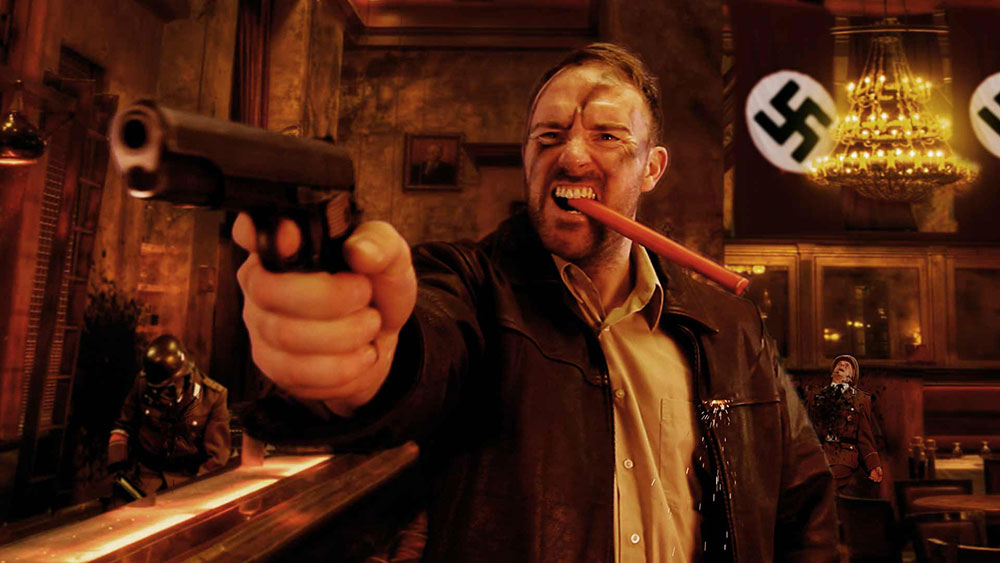 Dick Dynamite is currently in production and on target for completion by Christmas 2020.
More information is available at: https://www.facebook.com/dickdynamiteofficial/