Name: Craig J Seath
Primary Skill: Acting
We speak to Newmills-based actor Craig J Seath about his experiences in film, working on Outlander, and the importance of teamwork and camaraderie on set.
How did you first get involved in the world of filmmaking, and what made you want to stick with it?
I had done a corporate video at my work and found the whole filmmaking thing fascinating. Then, in 2010, I was at my local Co-Op and there was a small flyer asking if anyone wanted to be involved in a feature film and if they had any knowledge of the coal mining industry in the 20th Century in Fife. The answer to both was yes so I went along to a meeting with the director and community officer. It consisted of me and a drunk guy with a dog. But what the director was saying was fascinating.
Over the next two years, I suddenly found – rather than just helping with the research – I had been cast as the village doctor in The Happy Lands, and from blank page to seven weeks of filming I found myself hooked on the whole process and found a real community, a family if you wish on set. And I loved it.
What were your first experiences on a set like?
After so much time I was among so many friends so it wasn't too daunting. We were all in it together. The thing I couldn't get over were the number of people behind the scenes. We were quite lucky as the crew were very lovely and approachable. Unlike other productions, we were encouraged to ask questions as long as we didn't get in the way of the work. It was a great introduction, but in no way typical.
Most of your career has been outside of the arts. Tell us about your working life, and what are the differences you've found in the world of filmmaking?
Most of my working life has been spent in pest control with private industry and local authority. The major difference is that when you are not doing anything on set (because you are not required or they are resetting for another scene) there isn't anyone standing over your shoulder asking what you are doing and telling you to do something else.
What have been some of the projects you've worked on?
The first feature film I was involved with was The Happy Lands, which I mentioned.
I was asked to be one of the main characters in a film called The Last Love Letter; that was the first time I had a major part and I had so much fun with a character that is so much not like me. I have worked as an extra on three of Hex Studio's horror films and, like my first film, I really feel that it is a family when I do.
Of the shorts I have done, two come to mind, the first was a film for Alzheimer's Scotland called Clay which was a very worthwhile project for me, and of course, Cold. I really got what the director, Gavin Hugh, was trying to portray, and I had the delight of having someone I am very close to play my daughter. It again was a real family atmosphere with everyone working towards the same goal. I had not felt that since my first feature and I knew we were doing something worthwhile.
I will gloss over the short film I did dressed in stockings, suspenders and high heels – that is a totally different story.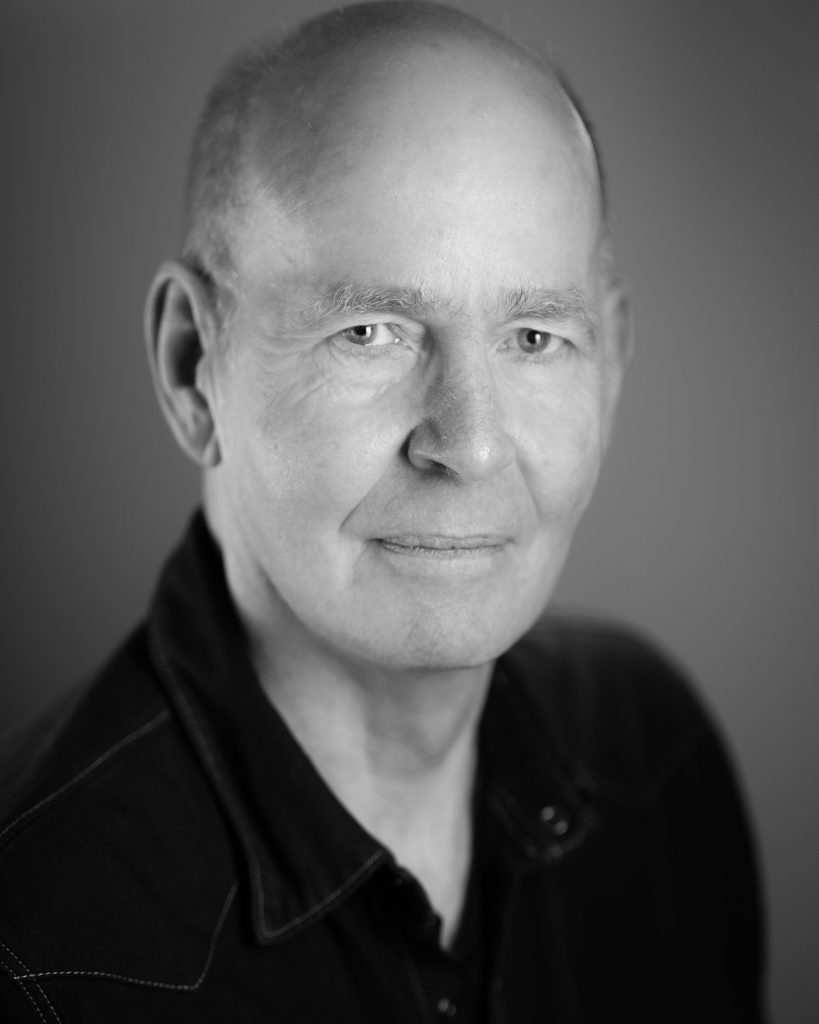 How do you try and prepare for a role?
It is very easy if it is a costume drama or something with and actual costume. As soon as I get dressed, I am the character. In my first film when I dressed in my 1920's clothes, I became the doctor, I even found myself standing differently. But reading the part, I try to get into the head of the character, try to feel what they are feeling in the scene.
Sometimes this works too well, for Cold, the scene where I am talking to my daughter, played by Rowan Birkett, because of the closeness Rowan and I have, all of a sudden I WAS her father and she WAS in an emotionally fragile state, to the point on our first run through the director had to ask us to do it again less emotionally. After four hours of filming we were both emotionally drained.
How did we prepare for that? – Good food and alcohol – basically because we had so much faith in each other's abilities to drag good performances out.
You've also worked on Outlander! Tell us about your experiences.
Outlander is another level of filmmaking. But again, cast and crew are really lovely and I have made a number of good friends on it. Being in Scotland has its benefits as you always bump into people you know from previous projects.
The first time I went for a costume fitting, I was talking to a guy from wardrobe when I heard: "I thought it was you", and in walked Maggie, the costume designer from that first film I was in. They are long days (typically 12 hours) in all sorts of weather – I spent a week in a field with horizontal sleet dressed in a kilt. If that isn't dedication, I don't know what is.
The one huge thing that surprised me was how lovely and approachable the two leads are. I swear Sam Heughan now knows all about my holiday preferences. And Cat Balfe is just so lovely to everyone.
You've appeared in a number of Hex Studios films. What's it like working with that team and on a horror set?
The team at Hex again, as I have mentioned, is more of a family. I can't say that their shoots are the most comfortable I have been on but I know what they can do and I have so much faith in the vision that Lawrie Brewster and Sarah Daly have that I find myself agreeing to do stuff against my better judgement.
Every wee while you really need to take yourself out of your comfort zone to feel alive – Hex Studios certainly do that.
What is your favourite thing about being on a set or working on a film?
That's an easy question – I just love watching everything happening behind the scenes. It is endlessly fascinating.
How important do you think team chemistry is on set?
I think team chemistry must be there so people can relax and concentrate on what is important – the finished article. One person can spoil the chemistry and it is important that people are chosen well for any project. I have had a little experience of one person (either cast or crew) who have really been in the wrong place. You really all have to be potential friends.
Tell us about a particularly memorable moment when acting.
There are so many, but one I always go back to is on a beach in the North of Fife on a not too warm day. It was for the Hex Studios' film The Unkindness of Ravens.
Lawrie Brewster, the director and producer, had half a dozen of us stripped to the waist, barefoot and wrapped in chains being led along the beach by 6-foot high ravens who were beating our backs with clubs. They were real chains and very heavy covered in fake blood so every time the director yelled "Cut" we dropped them, which resulted in them picking up sand, sandpapering our shoulders during the next take. There were a lot of complaints from us guys when we had to do it again and again – not helped by the make up artists sitting in warm clothes completely hysterical with laughter!
The final straw was then a busload of Japanese tourists arriving to this apocalyptic scene along with a lone dog walker. Goodness knows what sort of stories went back home about Scotland.
Have there been any roles you found particularly challenging?
Every role has its challenges but I have never found any one more than another they are only challenging in different ways. But maybe that is only because I relish challenges.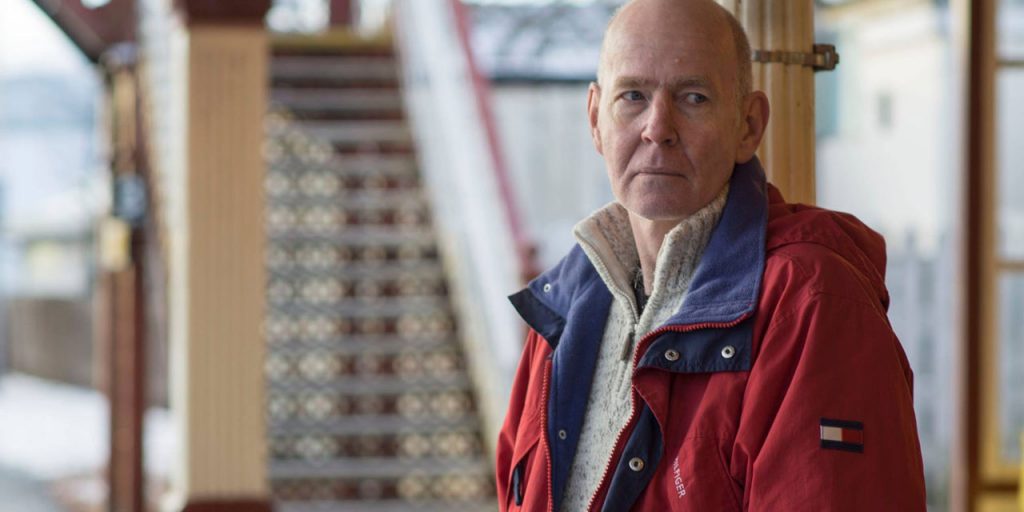 Do you have a performance or a film that you're proudest of?
In a short film, Cold is up there well above the others. I was so proud of what I and we did on that. I think the scene between Rowan and me is honest and believable, and came out exactly like I hoped it would.
In a feature film – playing the character of John Abbott in the film The Last Love Letter. The character was complex but fair to say – not particularly nice. I was delighted that, in a review he was described as "benignly psychopathic", so I felt I had got it right.
There is often a long wait between filming and a final cut being produced. What's it like to finish a project and have to wait for the finished film?
Obviously, you have to be patient but you also have to realise there is a lot of work after filming finishes to make the most of what's in the can. That is all part of filmmaking. It is very true that a film can be made or broken in the edit and that is so true. Luckily for me, there is always another project on the horizon to take you attention away from the wait. And its never THAT long a wait in the grand scheme of things.
You have other creative skills besides acting, including composing and writing. Tell us a bit about the other ways you like to create and collaborate.
I love writing scripts but have only filmed one. I aim to do more in the coming years. I have composed music for films in the past, and eve for a fashion show. Playing music is where I go to relax and switch off, either guitar or piano.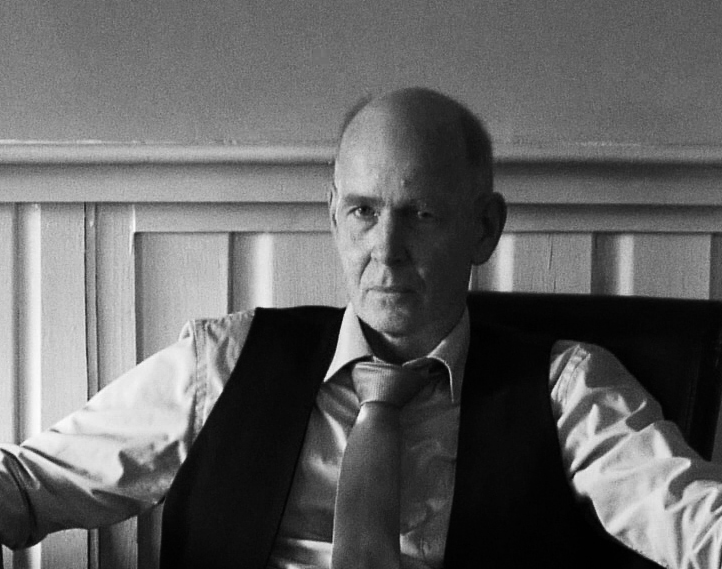 What are your thoughts on the filmmaking community in Scotland?
There is so much talent out there, but it lacks cohesion. There is no single entity that can bring people together in reality. It is splintered over the country. We need a studio or studios that can focus the creative talent that we undoubtedly have.
I think the large film companies worldwide are beginning to realise this and hopefully the Scottish Government will finally back what we have been asking for for years, and we don't need to look enviously at what is provided in Ireland.
Many people say there aren't enough opportunities for creative people in Fife. What are your own thoughts?
It is not just Fife, but elsewhere as well. There is nothing to stop anyone being creative, if there is not an opportunity – create one. Too many people want someone else to do it and miss the chance themselves.
What projects are you hoping to do next?
I have a trilogy of scripts for one woman films I was hoping to start filming in August, but timescales at the moment are subject to change due to the pandemic. I am determined to do them and have the three actresses lined up and keen to take part.
What words of advice would you give someone new to acting or filmmaking?
Don't wait for the "right opportunity. Make the right opportunity.
Your favourite film and why.
Always a difficult one, as my favourite film is always the last one I watched (with some notable exceptions). But to answer this, it must be 2001 – A Space Odyssey. My parents took me, at the age of 10 to see this in the local cinema and it took my young breath away and left a lasting impression.
Any final thoughts?
Don't expect to be the next big thing – but work on projects you believe in, work with people you actually like and admire but most of all – HAVE FUN!